Softball Splits Doubleheader with Cleveland State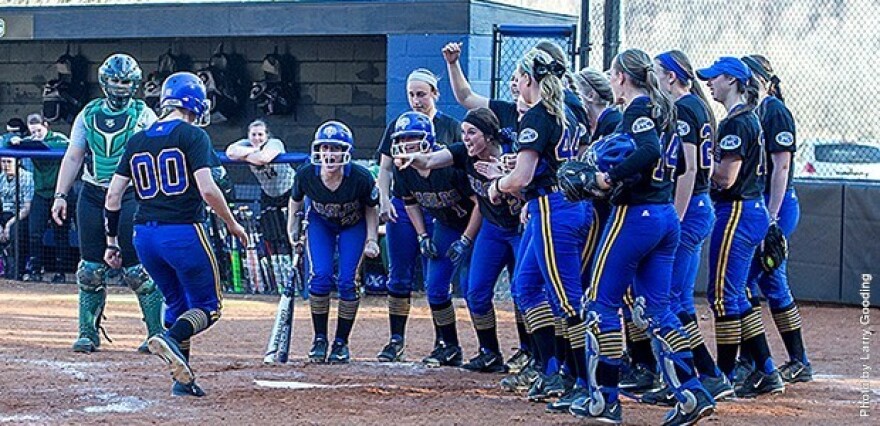 Morehead State and Cleveland State split a softball doubleheader on Tuesday afternoon at University Field. MSU rallied for two runs in the seventh inning of the opener to post a 5-4 walk-off win, while CSU built an early lead and hung on for a 3-2 victory in game two.
The Eagles, who compete in the Ohio Valley Conference, move to 12-15 overall and 4-4 at home. The Vikings, who play in the Horizon League, are now 16-11 overall and 5-6 on the road.
Morehead State collected a single, Viking error, passed ball and two sacrifice flies to manufacture a pair of scores in its final at-bat of game one. Junior right fielder Tressa Watson picked up the game-tying RBI, while freshman catcher Laine Simmons notched the game-winning RBI.
Freshman right-hander Mackenzie Grossmann, who fired 107 pitches in seven innings, improved to 7-5 with the game-one victory. She allowed four runs, eight hits and two walks while striking out five. It was her eighth complete game in 13 starts this season.
Sophomore center fielder Kayla McGuffey paced Morehead State in the doubleheader by going 5-for-8 with one RBI. Four of her five base knocks stayed in the infield. She has now hit safely in eight straight contests, going 15-for-28 (.536) during the stretch.
Freshman catcher Robyn Leighton took advantage of her game-two start, going 2-for-3 with her first collegiate homer. The roundtripper led off Morehead State's fifth and trimmed the deficit to 3-1. Leighton became the ninth Eagle to go deep this season.
Sophomore right-hander Megan Tymorek managed a quality start in game two, but fell to 0-6 with the loss. She yielded three runs, eight hits and three walks while fanning five. Tymorek threw 115 pitches in her second complete game of the campaign.
Senior shortstop Cynthia Woodard paced Cleveland State in the twinbill by going 5-for-8 with three runs and three RBI. She smashed her seventh double in game one and eighth two-bagger in the second tilt. Woodard also teed off on her 13th long ball in the nightcap.
Senior right-hander Alex Radjen (6-4) ended up with both decisions for CSU. She took the loss out of the bullpen in game one and earned a complete-game win in game two. Radjen allowed just two earned runs and six hits in 7.2 frames. She struck out 10 in the second affair.
Morehead State is scheduled to play four conference games on the road this weekend. The Eagles visit Murray State on Friday for a 2 p.m. ET doubleheader and Austin Peay on Saturday for a 1 p.m. twinbill. MSU opens a nine-game homestand next Tuesday against Dayton.