Innovative Workforce Training Program Expands in Northeast Kentucky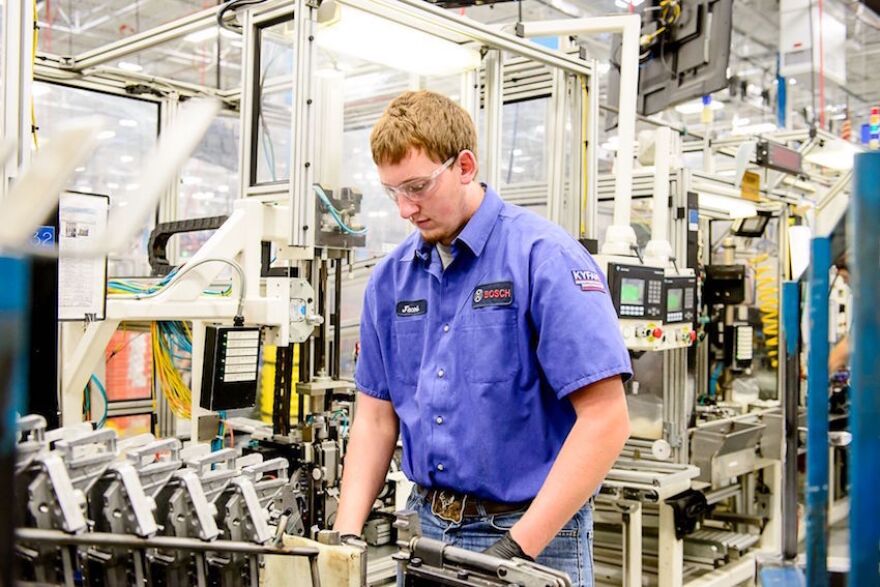 One of the Commonwealth's nationally recognized workforce training programs, the Kentucky Federation for Advanced Manufacturing Education (KY FAME), expanded to northeast Kentucky and the SOAR region, Governor Matt Bevin announced.
Through KY FAME, high school graduates and adults can earn an associate degree in advanced manufacturing while gaining hands-on, paid experience at a sponsoring manufacturer. The apprenticeship-style, education-and-training program addresses a need for more technically skilled workers in advanced manufacturing.
"With this new KY FAME chapter, local employers and the Kentucky Community and Technical College System take a leadership role in creating a pipeline of highly skilled employees to grow the regional and statewide economy," said Governor Bevin. "Congratulations to the northeast Kentucky region for forming this latest chapter. It will join in the growing success of KY FAME in educating and training Kentuckians to become one of the world's most highly skilled and in-demand workforces."
Northeast KY FAME participants will enroll in the Advanced Manufacturing Technician (AMT) program at one of Maysville Community and Technical College's (MCTC) four campuses. Students attend classes two days a week and work at a sponsoring manufacturer 24 hours per week. After completing the five-semester program, students receive an associate degree in applied sciences.
With the practical skills gained during their paid work experience, KY FAME graduates often take full-time positions with their sponsoring companies. Graduates can also continue their education toward bachelor's degrees in engineering or business.
Other KY FAME chapters include the Bluegrass Region (central Kentucky), Greater Louisville, Northern Kentucky, Elizabethtown/Lincoln Trail, Greater Owensboro, Cumberlands, Southcentral and West Kentucky regions. The goal is to eventually expand the program to all corners of the Commonwealth.
Nearly a dozen sponsoring employers in the region joined the launch of the Northeast Kentucky chapter:
A Raymond Tinnerman
Cooper Standard
CTI Foods
East Kentucky Power
KDMK (Kyosan DENSO Manufacturing Kentucky)
Meadowview Regional Medical Center
Precision Resource
Regal Beloit
Stober Drives
Summit Polymers
The Walker Company
"It's exciting to see KY FAME grow into the northeast Kentucky area," said Kim Menke, manager of government affairs for Toyota and president of the KY FAME board of directors. "KY FAME programs produce high quality employees for Kentucky companies. I'm thrilled that additional chapters will have the opportunity to support local companies and grow our manufacturing workforce across the Commonwealth."
"Developing a skilled workforce is certainly the key to the success of our local communities in northeast Kentucky," said Peter Feil, vice president and general manager at Stober and president of the Northeast KY FAME chapter. "Establishing a FAME chapter in our region is the first step by the private sector to create opportunities for individuals to gain the job skills and work experience needed so our region can meet the current and future workforce demands."
"MCTC is committed to meeting the needs and expectations of the Northeastern KY FAME partners by providing the students engaged in this work and learn program with the knowledge, skills and abilities desired by our regional industries," said MCTC President Steve Vacik. "We understand that a skilled workforce is critical for business and industry and for the economic prosperity of our area. We are proud to be a partner in this exciting initiative."
With the addition of Northeast KY FAME, the KY FAME partnership now includes more than 140 companies statewide.
To learn more about KY FAME, visit: http://www.KYFAME.com
(story provided by Jobs For Kentucky)